Improved Polywrapping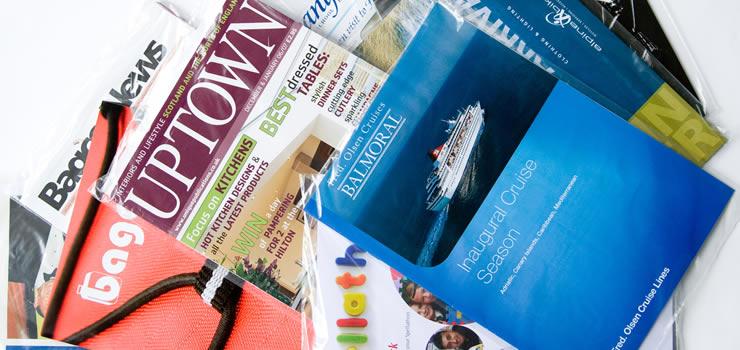 Well our service has just got better as we recently installed one of the largest, fastest and most flexible polywrapping lines available.
With 13 stations capable of inserting products of all sizes, the Buhrs BB3000 is certainly capable of fulfilling even the most complex polywrapping requirements.
And with impressive operating speed of up to 13,000 wraps per hour, any project size can be fulfilled within the tightest of timescales and budgets.
Tight and Secure
What makes our polywrapping better is the option to tightly wrap each completed mail piece.
More Elegant Presentation – no more of the traditional excessive flaps getting in the way
Damage Less Likely – as your mailer is unable to slide within the polythene, the likelihood of damage to both your mail piece or the polythene is reduced.  
Better for the Environment – Up to 10% less polythene can be used.
 However should a traditional flap be required then then this is easily to setup
The Right Polythene
Polythene comes in different weights (microns). The heavier the mail piece, the heavier the polythene needs to be to ensure the mail piece is delivered intact. We always use the correct polythene for each project to ensure your mail piece arrives undamaged.

Check that your current supplier does not use cheap, light polythene.
Quality Assured
We utilise the latest mailing technology to ensure the quality of the completed mail piece.   This includes miss and double detection sensors on all stations as well as sensors to ensure the completed mail piece is properly sealed.
Easy to Open
Our EasyOpen option can provide a longitudinal perforation enabling the sealed product can be opened much more easily.
Flexibility of Inserts
Our polywrapping lines are fitted with a variety of different feeding stations.   This ensures we can handle all different shapes and sizes of inserts meaning that we are able to fulfil every type of polywrapping project.
Related Information
Why not contact us to find out just how affordable polywrapping can be
Want to know more about the technical capability of our polywrapping lines
We will be happy to provide a free wrapped sample of your mail piece
Looking for more information on why AMS can be your perfect partner
Why not read our blog which compares envelope enclosing and polywrapping